FOOD & WINE / First Courses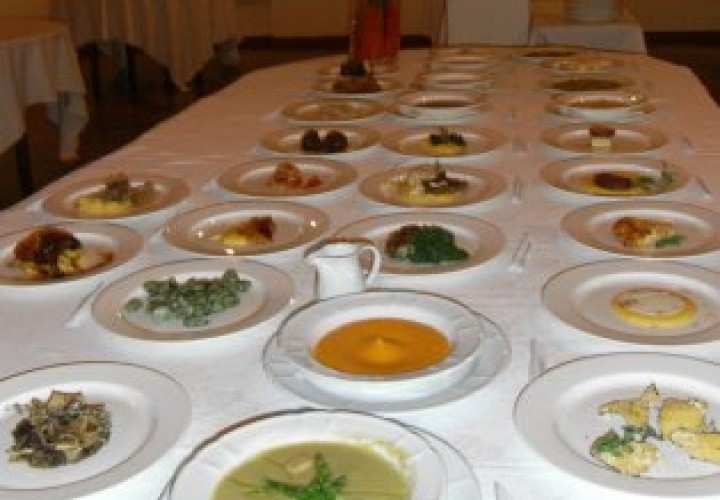 Among the first courses are the homemade soups and the ingredients that characterise them are the vegetable garden and seasonal products (potatoes, peas, courgettes).
A simple dish that takes the mind back to the peasant life, distinguished by the work in the fields and warming up with a hot plate of soup. Even though the rhythm of life is decidedly different today, soups are typical of the evenings of Pordenone families. Among them all, the bean soup stands out, which is served rather thick, with a thread of olive oil and a sprinkling of course-ground black pepper or grated cheese.  Depending on the area it can be offered with whole beans inside, with barley or with pasta (the so-called pasta e fasioi).
Another typical dish in winter evenings is panada, a stale bread soup served with fennel seeds. Not to be forgotten are dumplings, also made with pumpkin, with which those of sugo de rassa (duck sauce) go well.
Risottos, of recent introduction, are not missing. Among the more typical are those with grisol or sclopit (spring herbs) and those with peas (risi e bisi). But surely to be tasted too are those made with pumpkin, savoy cabbage, sausages, mushrooms or chicken livers.
The pastas are the traditional ones served with the Tocio (gravy from the cooking of various meats) or with a meat sauce made from crumbling salami, sausage or cotechino (a spiced sausage). To these are added the better known served with mushrooms or game sauces. To be noted are the bigoi in salsa, large diameter spaghetti served with sardines (small pilchards) in oil, traditionally offered during Lent.
(source: Italian Touring Club "Pordenone e provincia" – author: Michela Zin)